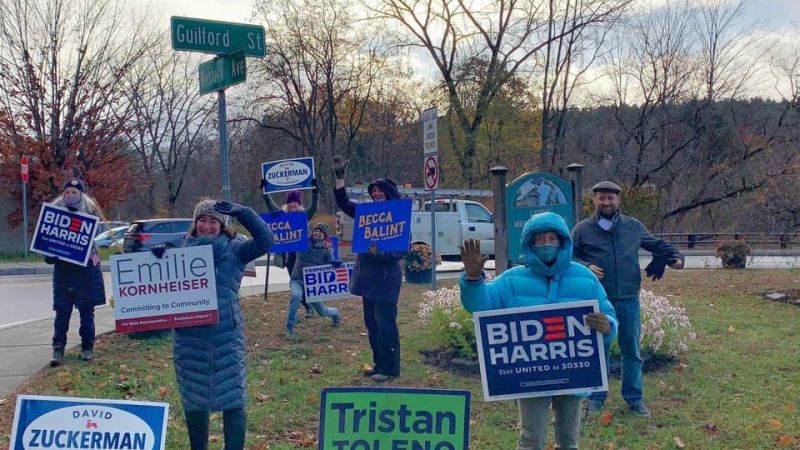 Have you voted? Have you talked to someone else about voting? The election is just two days away. You probably don't need me to tell you that.
A huge thank you to the folks who helped out on our virtual phone bank yesterday, who wrote postcards to voters, who turned out for our community conversations, and who donated. Thank you to the people checking in our ballots as town clerks, those running for office and working on campaigns, everyone caring for loved ones these days, and people working to pay their rent through these hard times. Let's remember that it's not just about the two people on the ballot.
We shape our future with the actions we make today. Brattleboro is seeing record voter turnout for this crucial election. This is in part due to our passion and our fear— we have a renewed understanding of how much our vote and our voice matter. But it is also because of the incredible degree of access we bring to our elections here in Vermont. We have some of the earliest early voting in the country, with no explanation required. This year we mailed ballots to every registered voter. Incarcerated folks and those who have served their time are eligible to vote. I know that in the whirlwind of our lives it's so easy to lose tracks of dates, to think that if my neighbor takes care of it, then I don't need to. Government and politics feels so far away for so many of us. Let's keep working to bring it closer.
The last few weeks have been some of the most intense since the pandemic started—
Shattering moments on the national level with the confirmation of Judge Amy Coney Barrett.
The announced closure of many of The Retreat's community based programs.
Continued assaults on the voting rights and right to assemble for people of color throughout the country.
I'm terrified about the Supreme Court and remind myself that we've already done much to buffer ourselves from the impacts here in Vermont— on reproductive justice, and voting rights, on protections for workers, protected classes, and gay marriage. I know that we can do the same in other states.
The closure of these Retreat programs might genuinely be what's best for Vermont's systems of care, and for the institution. But that doesn't help the 80+ people who lost their jobs, the hundreds of our neighbors who receive medication assisted treatment there, and the kids and families who attended school there. I plan to hold the Scott Administration and the Retreat responsible for safe, adequate, sustainable transition planning for each program that is being closed. As a community we care deeply about the people impacted by this decision, and I know we'll come together to ensure that people find new jobs, maintain their treatment, and access new educational opportunities.
Regardless of what happens on Tuesday, I know we have much work ahead of us. I'm so glad to be doing it with all of you.