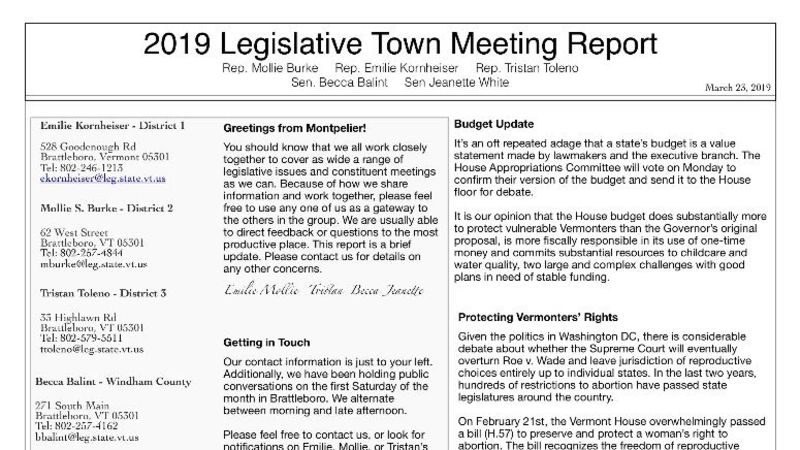 Yesterday was Representative Town Meeting in Brattleboro.
We have a funny form of governance here, different from any other town in the state. Here's a charming description from the Town website:
Brattleboro is special in many ways, however our form of local government is truly unique in Vermont. On June 4, 1959, the Vermont Legislature passed Act No. 302 authorizing Representative Town Meeting in Brattleboro. On March 1, 1960 the residents of Brattleboro voted to adopt Representative Town Meeting as approved by the Legislature. In most Vermont towns, all of the registered voters are eligible to gather on a designated date, usually the first Tuesday in March, to vote on the budget and other matters of town policy. In Brattleboro only elected Representatives vote at the Representative Town Meeting held on the third Saturday after the first Tuesday in March. The public is welcome to attend the meeting but they cannot vote. There is no party affiliation to this office. Any citizen of Brattleboro who is a registered voter may run for Town Meeting Member. The normal term of office is three years, though there are often remainder terms to be filled. These would be for one or two year periods depending on the length of time left on the uncompleted term. The terms are staggered so that every year fourteen or fifteen new members are elected from each district. The total number of voting members is based on the number of registered voters per district. The current number of elected town meeting members is 138. The Moderator, Selectboard, Town School Board, Town Clerk, Treasurer, and Brattleboro's Representatives to the Vermont Legislature are also voting members. This brings the total number of voting members to 155.
By coincidence or design, Town Meeting falls at the midpoint of the legislative session and is a perfect time to take stock and share an update with the community. Our full county delegations works together in a variety of ways: we meet as a caucus twice a month, we email regularly, and we constantly keep an eye out in each of our committees for issues that affect all of our constituents, and finally we collaborate on the following Town Meeting Report.
These two pages can't encompass all the work that we've done this year and many of these bills are still in process. Next week I'll be back to tell you about the bills that we've voted out, where compromises have been made, and where justice prevailed.
Remember you can always be in touch with any questions or issues you're thinking about.