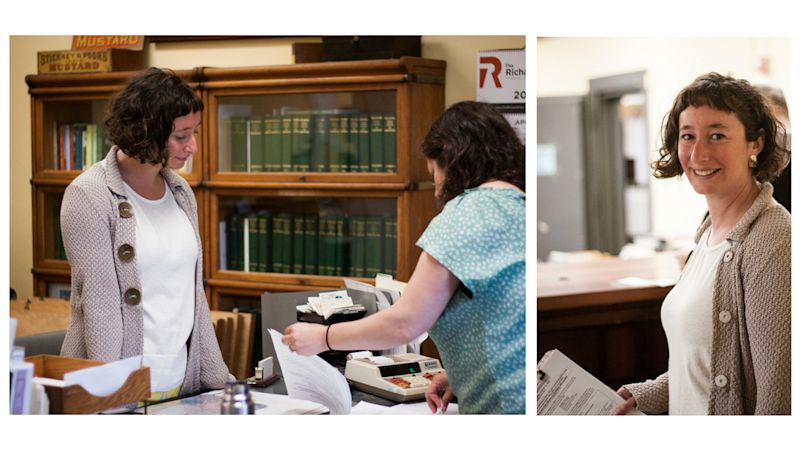 On Tuesday, Emilie filed her petition to run for State Representative for Brattleboro District 1. Though only 50 signatures are required, Emilie's petition had more than 200.
Here is the full announcement:
Brattleboro – Emilie Kornheiser has filed her Election Nominating Petition to run for State Representative in Windham 2-1 (Brattleboro District 1). Her petition included 200 signatures, far exceeding the 50 signatures required.
Kornheiser previously announced her candidacy at an event in West Brattleboro attended by more than 70 members of the local community. At that event, she emphasized her desire to find systemic solutions to the challenges facing Vermonters: "I'd like to see our politics move from sound bites and band-aid policies to creative thinking about systems and impact. My professional background is in accountability—helping governments and organizations get results. I'd like to bring that work to our state legislature on behalf of my community."
A strong advocate of grassroots democratic engagement, Kornheiser plans to focus her campaign on building participation in the political process: "I want this campaign to be an opportunity for us to have real conversations about what we want and need for our communities—in Brattleboro and in Vermont." So far, the campaign has more than 100 donors and more than 50 volunteers working to engage their neighbors in participatory democracy. Building leadership and interest in democracy is a primary goal of the campaign, says Kornheiser. "I want everyone in the community to realize that their particular skills, interests, and perspective can and should be part of the equation, and that we are so lucky to live in a community that CAN be transformed to reflect the voices of everyone living in it."
"Committing to community" is the focus of Kornheiser's campaign platform. She advocates investing in existing institutions to reflect the needs of the community, approaching economic development as community development, and focusing on access to quality healthcare and education, affordable housing and social supports, clean energy, and reliable and affordable telecommunications. "Committing to community means investing in both people and the systems that support them," says Kornheiser. "When we invest in our communities, we grow strong economies, build broad tax bases, and create capacity to direct our resources toward what really matters."
Kornheiser is the Director of Workforce Development for Youth Services, a new position focused on creating a spectrum of employment opportunities for Windham County, rooted in mentorship and building on the strengths of our many small businesses. Until recently, she was the Early Childhood Action Plan Director for Building Bright Futures, the statewide public-private partnership focused on improving the well-being of young children and families. Active in local and state organizations, Kornheiser is a Brattleboro delegate to the Windham County Democratic Committee and a co-founder and leader of WeCAN (the Windham County Action Network) and the Women's Action Team. She represents District 1 in Brattleboro's representative town meeting, and Speaker of the House Mitzi Johnson appointed Kornheiser to the Vermont Commission on Women.
"Brattleboro has been my home since I was seventeen," says Kornheiser. "Since I first moved here, I've been a student, a waitress, a business owner, a social service worker, and an international development consultant. I'm committed to making the connections and developing the resources to make Brattleboro a place where everyone can thrive."